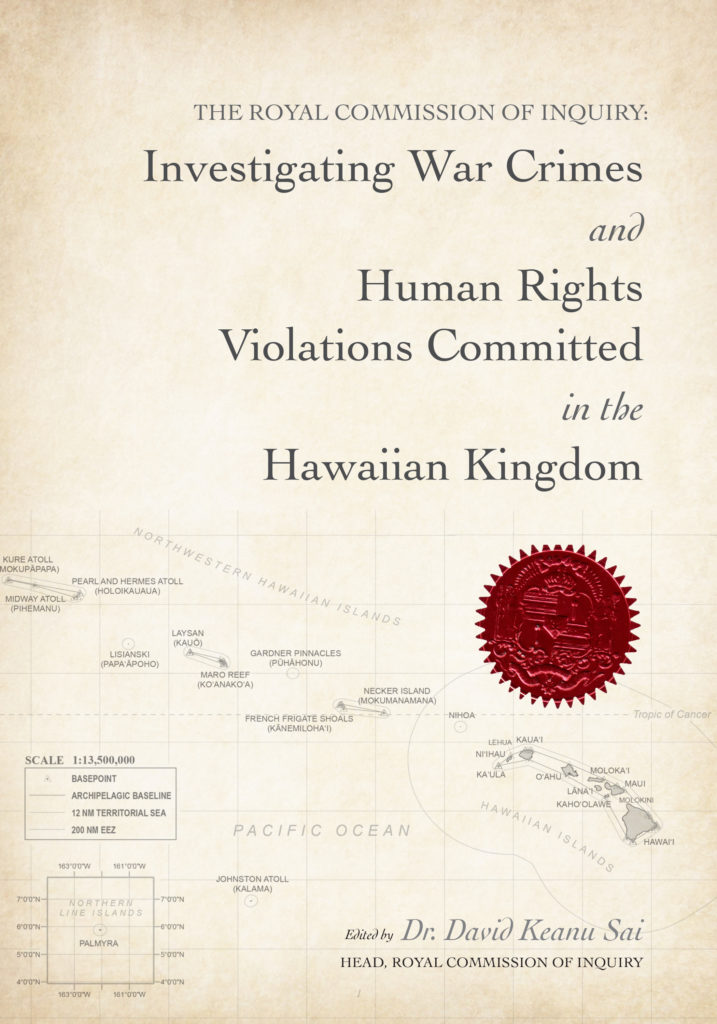 In response to the prolonged occupation of the Hawaiian Kingdom by the United States since 1893, and the commission of war crimes and human rights violations that continue to take place with impunity, the Royal Commission of Inquiry was established by the Council of Regency on April 17, 2019. The Council of Regency represented the Hawaiian Kingdom at the Permanent Court of Arbitration in Larsen v. Hawaiian Kingdom, PCA case no. 1999-01, from 1999-2001. The Royal Commission's mandate is to "ensure a full and thorough investigation into the violations of international humanitarian law and human rights within the territorial jurisdiction of the Hawaiian Kingdom."
Dr. David Keanu Sai was appointed as Head of the Royal Commission and he has commissioned recognized experts in various fields of international law who are the authors of chapters 3, 4 and 5 of this publication. These experts include Professor Matthew Craven, University of London, SOAS; Professor William Schabas, Middlesex University London; and Professor Federico Lenzerini, University of Siena.
Its first 378 page publication, Royal Commission of Inquiry: Investigating War Crimes and Human Rights Violations in the Hawaiian Kingdom, provides information on the Royal Commission of Inquiry, Hawaiian Constitutional Governance, the United States Belligerent Occupation of the Hawaiian Kingdom, the Continuity of the Hawaiian Kingdom as a State, Elements of War Crimes committed in the Hawaiian Kingdom, and Human Rights violations and Self-determination. The Royal Commission will provide periodic reports of its investigation of war crimes committed by individual(s) that meet the constituent elements of mens rea and actus reus, and human rights violations.
There is no statute of limitation for war crimes but it is customary for individual(s) to be prosecuted for the commission of war crimes up to 80 years after the alleged war crime was committed given the life expectancy of individuals. As a matter of customary international law, States are under an obligation to prosecute individuals for the commission of war crimes committed outside of its territory or to extradite them for prosecution by other States or international courts should they enter their territory.
**The book is free of charge and authorization is given, in accordance with its copyright under Hawaiian law, to print in soft-cover or hard-cover so long as the content of the book is not altered or edited.