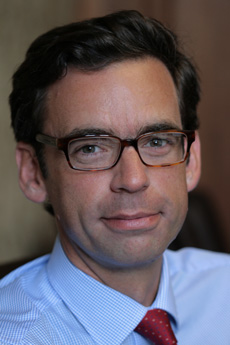 Professor Pierre D'Argent is the second of three commissioners to be appointed as a member of the International Commission of Inquiry in Incidents of War Crimes in the Hawaiian Islands—The Larsen Case that stems from the Larsen v. Hawaiian Kingdom arbitration held at the Permanent Court of Arbitration from 1999-2001. Professor D'Argent was appointed by the Provisional Government of the Hawaiian Kingdom and Dexter Kaiama, attorney for Lance Larsen, on October 8, 2017.
In these proceedings, the Provisional Government of the Hawaiian Kingdom is represented by Dr. Keanu Sai, as Agent, Professor Federico Lenzerini, Ph.D., as Deputy-Agent, and Ben Emmerson, QC, from the Matrix Chambers in London, as Counsel.
Pierre D'Argent is full professor at the University of Louvain in Belgium, where he holds the Public International Law Chair. He is also a guest professor at Leiden University in the Netherlands. He is Associate Member of the Institut de droit international and member of the Brussels Bar, acting as special counsel to Foley Hoag LLP. He specializes in advising and representing states before international courts and tribunals. He appeared as counsel before the International Court of Justice and later served the court as first secretary.
He has published extensively in matters relating to international law and has lectured in many universities around the world. He has been director of studies at The Hague Academy of International Law and has taught a specialized course at the Academy. He has contributed to the UN Audiovisual Library of International Law.
The Commission of Inquiry will hold its first hearing in Honolulu on January 16 and 17, 2018, which marks the 125th year of the United States' invasion on the 16th, the illegal overthrow of the Hawaiian government on the 17th, and the ensuing prolonged occupation since. According to Article III of the Special Agreement to form an International Commission of Inquiry:
"The Commission is requested to determine: First, what is the function and role of the Government of the Hawaiian Kingdom in accordance with the basic norms and framework of international humanitarian law; Second, what are the duties and obligations of the Government of the Hawaiian Kingdom toward Lance Paul Larsen, and, by extension, toward all Hawaiian subjects domiciled in Hawaiian territory and abroad in accordance with the basic norms and framework of international humanitarian law; and, Third, what are the duties and obligations of the Government of the Hawaiian Kingdom toward Protected Persons who are domiciled in Hawaiian territory and those Protected Persons who are transient in accordance with the basic norms and framework of international humanitarian law."