Maui Now.com reports "OHA to Host Two Maui Meetings Amid Nation Building Concerns"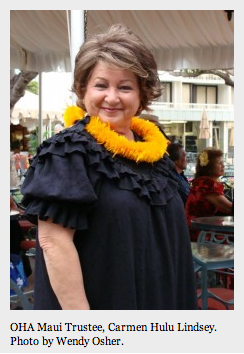 Two meetings are planned on Maui following public concerns raised over a letter sent from the top executive at the Office of Hawaiian Affairs to the US Department of State, seeking an opinion on the legal status of Hawai'i under international law.
Kamana'opono Crabbe, Ka Pouhana and CEO at the Office of Hawaiian Affairs submitted the formal request to US Secretary of State John Kerry, "as part of the organizationʻs broader effort to facilitate a Hawaiian nation-building process."
Crabbe explained in a press release statement that the action was prompted by a presentation and panel discussion last month that featured former Hawai'i Governor John Waihe'e, III, Chairman of the Native Hawaiian Roll Commission, senior Law Professor Williamson Chang, and Dr. Keanu Sai, a political scientist.
"The presentations of Professor Chang and Dr. Sai provided a legal analysis of the current status of Hawai'i that appeared to undermine the legal basis of the Roll Commission, and, as alleged in the panel discussions, the possibility of criminal liability under international law," Crabbe said in a press release.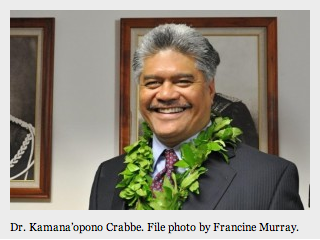 Crabbe continued saying, "These matters have raised grave concerns with regard to not only the Native Hawaiian community we serve, but also to the vicarious liability of myself, staff and Trustees of the Office of Hawaiian Affairs, and members of the Native Hawaiian Roll Commission. The community we serve, the Trustees, and many of my staff members, to include myself, and the members of the Roll Commission are Native Hawaiians, who are direct descendants of Hawaiian subjects of the Hawaiian Kingdom."
In a press conference held on Monday, Crabbe said, "I continue to believe my decision to send the letter was in the best interest of OHA and the beneficiaries we serve. I stand behind this decision and accept full responsibility for it."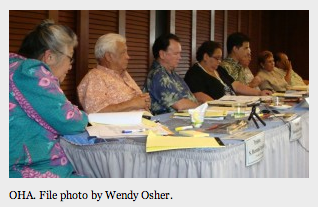 Maui Trustee Carmen Hulu Lindsey wrote a formal request on Monday asking that her name be removed from a letter in which trustees of the Office of Hawaiian Affairs rescinded Crabbe's letter sent to the Secretary of State.
Lindsey said she called Crabbe and listened to his account of what transpired, and said, "I am now confident that he acted in good faith and with the powers vested in him as CEO to safeguard the interests of those we serve."
She continued saying, "I have attended the many community town hall meetings OHA has held throughout the islands and heard the concerns articulated in Dr. Crabbe's letters expressed by several people.  While those questions may be troubling and difficult to address, it is precisely because they are so that I now believe Dr. Crabbe demonstrated courage and integrity in moving those concerns forward to try to get the clarity we need."
In conclusion, she stated that, "I regret the circumstances that led me to allow my name to be added to a letter that I now believe was sent off without adequate reflection and discussion among the trustees."
Native Hawaiians on Maui will get an opportunity to provide feedback to the Office of Hawaiian Affairs at a community forum as well as a regular meeting scheduled by the Board of Trustees this week.
The community meeting is designed for OHA officials to listen to concerns and highlight efforts to improve conditions within Hawaiian communities.  That meeting will take place at 6:30 p.m. on Wednesday, May 14, 2014, at the Waiola Church Hall on Waineʻe Street in Lahaina.
The Board of Trustees meeting will be held the following day at 9 a.m. on Thursday, May 15, 2014, at the Cameron Center Auditorium in Wailuku.
Both meetings are open to the public.