KHON News reports "Embattled OHA official receives community support"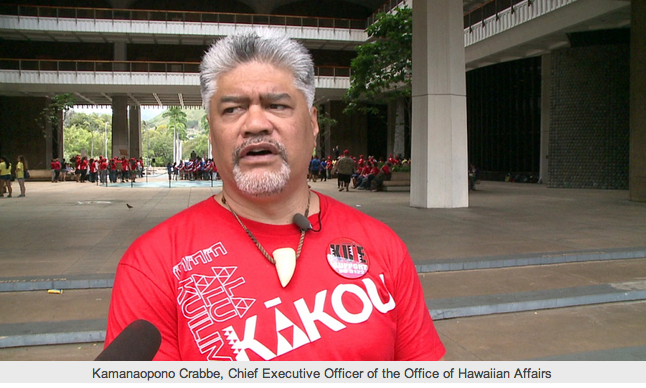 Controversy continues to grow at the Office of Hawaiian Affairs (OHA).
Last week, the CEO of OHA, Kamanaopono Crabbe, sent a letter to U.S. Secretary of State John Kerry asking for legal clarification on the issues surrounding the re-building of a Hawaiian nation. Crabbe said that "the Hawaiian community needed to know that I was inquiring about the very matters they sought to bring forward."
But OHA trustees quickly rescinded the letter, essentially scolding Crabbe by claiming he exceeded his powers.
But now members of the Hawaiian community are coming to Crabbe's defense with an online petition.
"There's been over 1,100 people that have signed on in a little over two days," said Dr. Kamana Beamer of the University of Hawaii. "We have about a thousand Hawaii (signees), as well as (those from) 19 other countries."
Beamer supported Crabbe's decision to ask for legal clarity when it comes to Hawaiian independence.
"What is the status of the Hawaiian kingdom under international law? We're not committed to any particular outcome per se, but we feel like we need to get these questions addressed so we can make informed decisions in the future," he said.
All nine OHA trustees had originally signed a letter asking that Crabbe's inquiry to the State Department be rescinded, although trustee Dan Ahuna wanted his signature be removed a day later, in support of Crabbe.
"All sides agree, Hawaiian independence, sovereignty, is a complex issue," said trustee Colette Machado via a teleconference call. "This is just the latest in discussions that have been going on for years."
Crabbe's supporters say he did the right thing.
"When's the last time that you've heard that the conversation is about doing the right thing, about the pono thing," said University of Hawaii student Donovan Preza. "For me, that's the takeaway from this experience."