KITV News reported "OHA CEO defends decision citing risk management"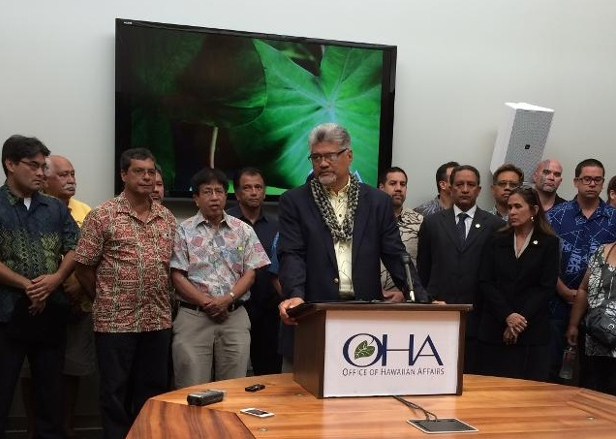 HONOLULU —"I take this responsibility very, very seriously," said Kamana'opono Crabbe, chief executive officer of the Office of Hawaiian Affairs during a morning news conference.
Flanked by his chief financial officer and other Native Hawaiian scholars and lawyers, Crabbe defended his decision to send a letter to Secretary of State John Kerry without consulting with OHA trustees first.
The letter asked for a legal opinion to clarify whether Hawaii's sovereignty is recognized under  international law.
"It is imperative for us to move forward to have at least accurate information, and truth so that our people can make well-informed decisions," said Crabbe.
The rift went public when OHA trustees asked to have the letter rescinded, although at least two trustees, Dan Ahuna and Carmen Hulu Lindsey, are now siding with Crabbe.
The Hawaiian community is in the process of political self-determination. The deadline for signing up for the Native Hawaiian Roll in order to be counted ended May 1.
"A well-informed decision may be, in our Hawaiian community, is that we need to stop this whole process until these questions are answered. There are reasonable questions to ask of the right authority," said attorney Dexter Kamiama.
But this internal clash has trustees scrambling for damage control.
Supporters of OHA's CEO were out in force Monday. Although Crabbe says he has not been asked to resign, some fear he may lose his job over this.
"Over 800 Hawaii residents have signed on to this petition we simply want to support pono leadership and we feel Dr. Crabbe has embodied that," said University of Hawaii professor Kamana Beamer.
OHA Chairwoman Collette Machado said she sent a two-page letter to staff outlining the difficult position Crabbe's letter has put the office in.
OHA chairwoman Collette Machado said trustees will meet with Crabbe next week to talk about the letter and the breach of process and take appropriate action.
Machado said Crabbe disrespected the trustees, Hawaii lawmakers and the 125,000 native Hawaiians who signed the roll.
Former Gov. John Waihee who heads the Native Hawaiian Roll Commission said he does not believe this rift will affect the process.
He said the next step is to verify the signatures on the roll and to elect delegates to a convention, something he hopes is still possible.