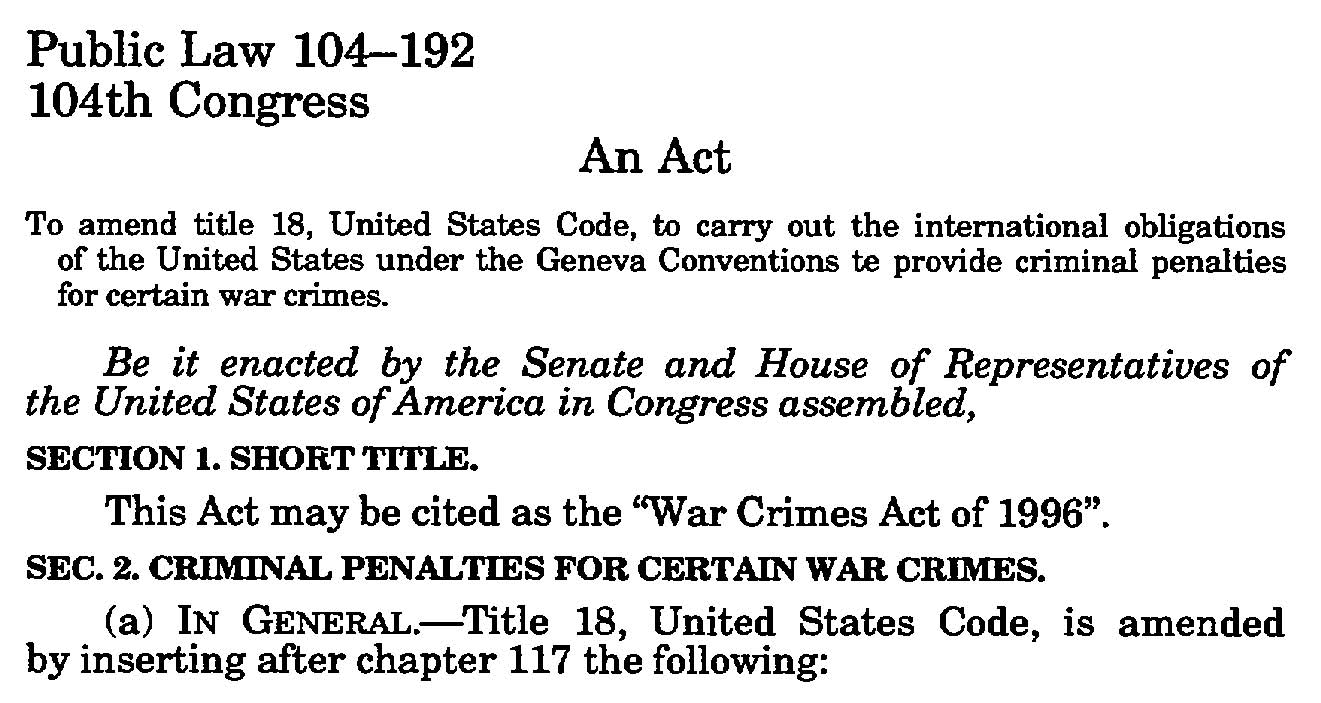 In 1996, the United States Congress enacted the War Crimes Act, 18 U.S.C. §2441, "to carry out the international obligations of the United States under the Geneva Conventions to provide criminal penalties for certain war crimes." §2441 provides:
(a) Whoever, whether inside or outside the United States, commits a war crime, in any of the circumstances described in subsection (b), shall be fined under this title or imprisoned for life or any term of years, or both, and if death results to the victim, shall also be subject to the death penalty.
(b) The circumstances referred to in subsection (a) are that the person committing such war crime or the victim of such war crime is a member of the Armed Forces of the United States or a national of the United States (as defined in section 101 of the Immigration and Nationality Act).
(c) As used in this section the term "war crime" means any conduct (1) defined as a grave breach in any of the international conventions signed at Geneva 12 August 1949.
Applicable "grave breaches" under Article 147 of the Fourth Geneva Convention are:
Unlawful deportation or transfer or unlawful confinement of a protected person
Compelling a protected person to serve in the forces of an Occupying State,
Willfully depriving a protected person of the rights of fair and regular trial
Extensive destruction and appropriation of property, not justified by military necessity and carried out unlawfully and wantonly
Because §2441 (War Crimes Act) provides punishment to include life imprisonment or the death penalty, war crimes are felonies or high crimes as opposed to misdemeanors. Law enforcement officers are under a duty to arrest, without the need of a warrant, when the officer has probable cause to believe that the person has committed a felony, whether in the officer's presence or otherwise.
The War Crimes Act is enforceable "outside" of U.S. territory when the United States military is the occupant of an occupied State. Title 18, U.S.C., §2441 reinforces the Lili`uokalani assignment, the 1907 Hague Convention, IV, the 1949 Geneva Convention, IV, and U.S. Army Field Manual 27-10 to criminally prosecute individuals who commit war crimes/felonies within Hawaiian territory.