This past April, the National Education Association (NEA), being the largest labor union in the United States comprised of public school teachers, administrators, and faculty and administrators of universities, published an article on its website titled "The Illegal Overthrow of the Hawaiian Kingdom Government."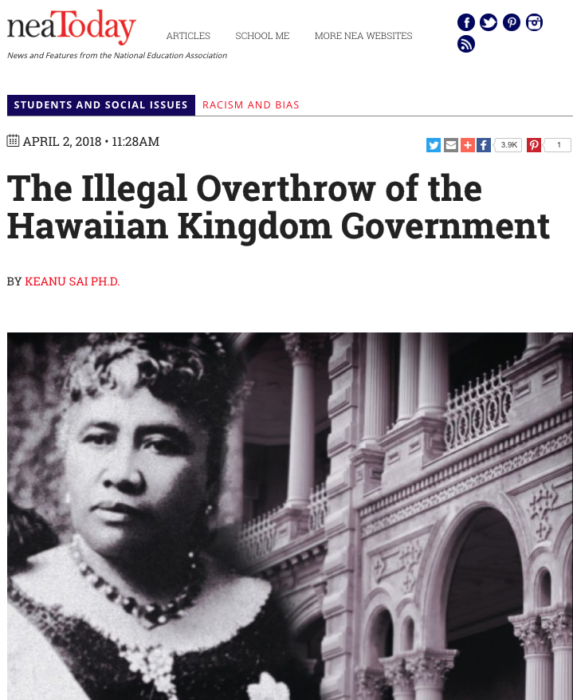 The article is a departure from the common belief that Hawai'i is the 50th State of the American Union. Instead, Hawai'i is an independent State that has been under an illegal and prolonged occupation by the United States since January 17, 1893.
The NEA acknowledged that "on December 18, 1893, the President proclaimed by manifesto, in a message to the United States Congress, the circumstances for committing acts of war against the Hawaiian Kingdom that transformed a state of peace to a state of war on January 16, 1893." Without a treaty of peace, the Hawaiian Kingdom and the United States remain in a state of war and the Hawaiian Islands have been under a prolonged occupation. The NEA concluded in its article:
Despite the unprecedented prolonged nature of the illegal occupation of the Hawaiian Kingdom by the United States, the Hawaiian State, as a subject of international law, is afforded all the protection that international law provides. "Belligerent occupation," concludes Judge Crawford in his book The Creation of States in International Law (2nd ed., 2006), "does not affect the continuity of the State, even where there exists no government claiming to represent the occupied State (p. 34)." Without a treaty of peace, the laws of war and neutrality would continue to apply.
The significance of this article is that the NEA has taken a position based on historical facts and not political leanings. The article will be referenced by teachers across the United States that explains to their students the lawful status of the Hawaiian Kingdom under international law.
The NEA's article stems from a resolution that was passed by its delegates who met at their annual convention in 2017 in Boston, Massachusetts.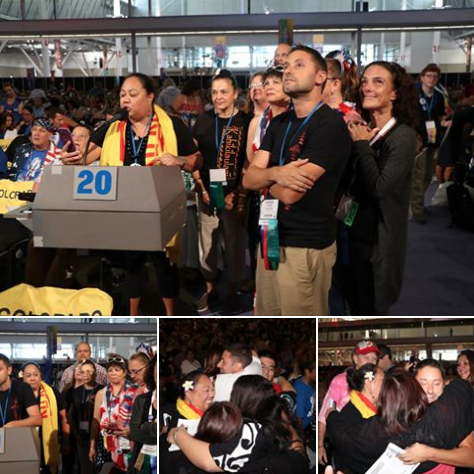 The resolution was introduced by the delegates of the Hawai'i State Teachers Association, which is an affiliate labor union of the NEA, and it passed on July 4, 2017. The resolution was referred to as New Business Item 137, which stated:
The NEA will publish an article that documents the illegal overthrow of the Hawaiian Monarchy in 1893, the prolonged occupation of the United States in the Hawaiian Kingdom and the harmful effects that this occupation has had on the Hawaiian people and resources of the land.
#ProtectedPersonsHawaii
#WarCrimesHawaii