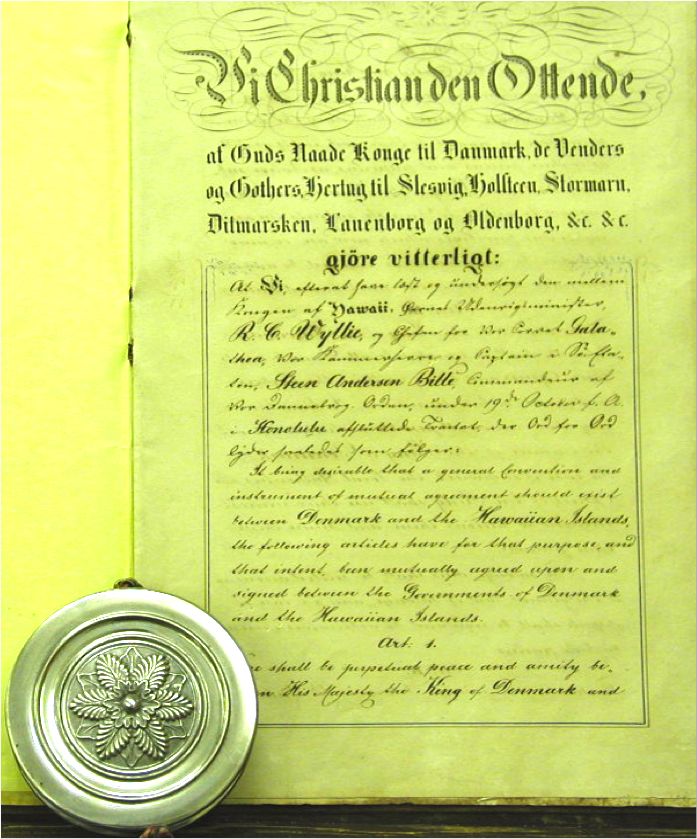 On October 19, 1846, a Treaty was signed between Denmark and the Hawaiian Kingdom in Honolulu and thereafter ratified by both governments. Article II of this treaty provides:
"the subjects of His Majesty the King of Denmark, residing within the dominions of the King of the Hawaiian Islands, shall enjoy the same protection in regard to their civil rights as well as to their persons and properties, as native subjects;  and the King of the Hawaiian Islands engages to grant to Danish subjects the same rights and privileges which now are, or may hereafter be, granted to or enjoyed by any other foreigners, subjects of the most favored nation."
Neither Denmark nor the Hawaiian Kingdom gave notice to the other of its intention to terminate this treaty in accordance with the principles of customary international law.  Therefore, this treaty is still in full force and continues to have legal effect to date. Former Danish territories, which acquired their independence from Denmark, are successor States to, at the very least, Article II of the Hawaiian-Danish Treaty with regard to the citizenry of the successor State that effectively replaced the citizenry of the predecessor State in the treaty. The successor State is:
Iceland.  Independence:  June 7, 1944.