HAWAII ISLAND – Keanu Sai has filed a petition for an emergency writ of mandamus with U.S. Federal District Court in Washington, D.C.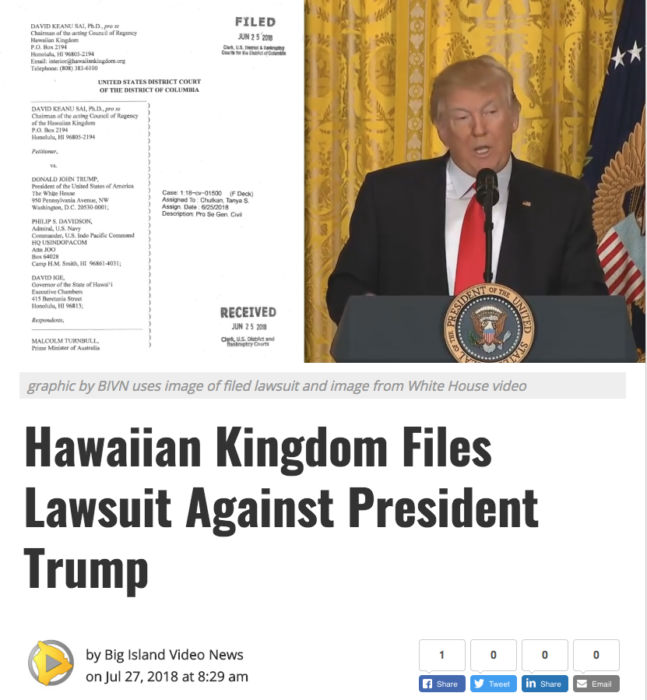 (BIVN) – David Keanu Sai, Ph.D., acting as Chairman of the acting Council of Regency for the Hawaiian Kingdom, has filed a lawsuit against United States President Donald Trump regarding the prolonged American occupation of the Hawaiian Islands.
Sai, who will be speaking at a La Ho'iho'i Ea event in Kalapana this weekend, filed the lawsuit on June 25 in U.S. Federal District Court in Washington, D.C.
The suit comes on the heels of the February 25 memorandum written by Dr. Alfred M. deZayas – the United Nations Independent Expert under the Office of the High Commissioner for Human Rights – to members of the judiciary of the State of Hawai'i advising the courts "should not lend themselves to a flagrant violation of the rights of the land title holders" and "must not enable or collude in the wrongful taking of private lands", based on the understanding that Hawaii is a "sovereign nation-state in continuity" which is "under a strange form of occupation by the United States resulting from an illegal military occupation and fradulent annexation."
The conclusion of Dr. deZayas is nothing new to followers of Sai's work. He has been working at home and abroad to educate the world about the Hawai'ian Kingdom. Last year, shortly after President Donald Trump took office, we interviewed Sai about a series of topics, including alleged "war crimes" as it relates to international law.