Dr. Willy Kauai, director of Native Hawaiian Student Services at the University of Hawai'i at Manoa, is currently in Europe with 13 Hawaiian students. The students are retracing the Hawaiian Kingdom's program of sending Hawaiian youths abroad to be educated and to return to serve the country. Dr. Kauai asked if we could share their travels and experience with the broader Hawaiian community. Here is an email from Native Hawaiian Students Services that introduces you to the first annual Hawaiian Youths Abroad Program.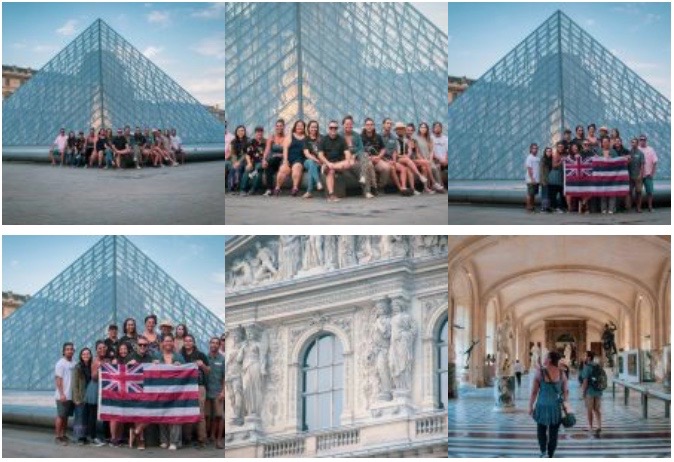 **************************
Aloha mai kākou,
We just wanted to send our aloha and share our travel blog with everyone detailing our first annual Hawaiian Youths Abroad program. We just finished our huaka'i to Paris and London with 10 undergraduate and 3 doctoral students in tow.
As you may know, between 1880 and 1892, 18 Hawaiians participated in the Hawaiian Youths Abroad program in six different countries around the world: Italy, Scotland, England, China, Japan, and the United States. The 17 young men and 1 young woman were selected by King Kalākaua to become future leaders of an independent and progressive nation, the Hawaiian Kingdom.
"But just as I have said, there is but one alternative left us for saving our country, and that to have Hawaiian youths educated abroad." – Joseph Nawahī, April 1891
The Hawaiian Youths Abroad program was embedded in the Hawaiian Kingdom Foreign Affairs office, and was designed as both an educational and diplomatic program to train future leaders to serve in core government functions. The program's very creation, design, and eventual demise, are demonstrative of the social and political conditions and concerns of the time. The quote above by Joseph Nawahī was from a Department of Health meeting at Kalaupapa in 1891 where Nawahī was addressing the leprosy crisis in Hawaiʻi and remarked on the remarkable progress of one of the Hawaiian Youths Abroad scholars, Matthew Makalua, studying medicine in England and earning many awards and prizes for his work. His studies and progress inspired the Hawaiian Kingdom Department of Health to begin conversations on starting a medical college in the Hawaiian Kingdom. This is just one of the many stories that beset the Hawaiian Kingdom to take drastic measures, including sending future leaders around the world for education and diplomacy to protect our country.
With a similar intent, the 2018 Hawaiian Youths Abroad  program provides similar and appropriate points of examination by exploring both the Hawaiian Kingdom educational prowess of the the 19th century while critically examining the illegal attempts that have attempted to exterminate such progress. Native Hawaiian Student Services (NHSS) at the University of Hawaiʻi at Mānoa seeks to restore the Hawaiian Youths Abroad program in Summer 2018, after a 126-year hiatus. Mahalo to Hawaiʻinuiākea and Kamehameha Schools for significant  contributions to help make this trip possible.
Check out our travel blog at: http://manoa.hawaii.edu/nhss/current-programs/hawaiian-youths-abroad-program/hya-2018-london-paris/hya-2018-travel-blog/
Ke aloha,
Native Hawaiian Student Services