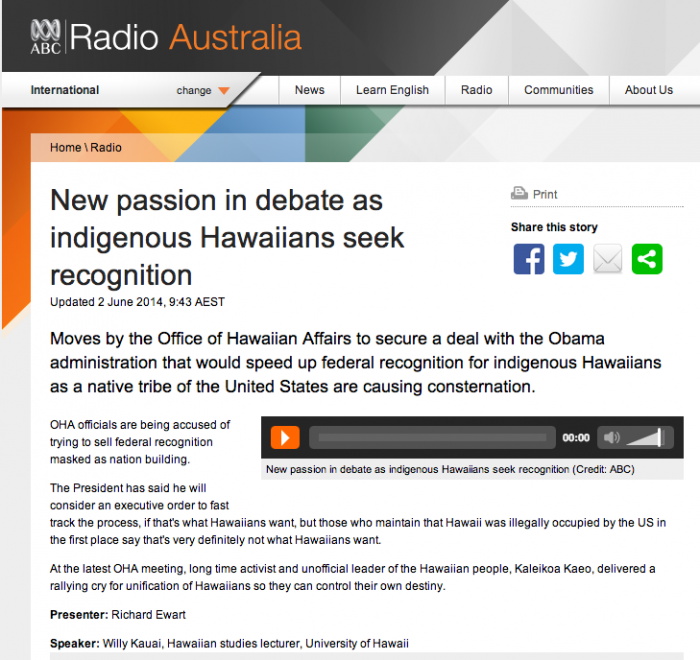 To listen to the interview click here.
KAUAI: I think one of the problems that you see is that they've poured a lot of energy, a lot of resources into federal recognition, that is building a stronger relationship with the United States. What you failed to see however as Kaleikoa had pointed out was there's going to be this resurgence with regard to education, with regarding to knowing our history, a history that is just important for historical purposes, but has current implications today, specifically legal implications. And so, I think when you see the passion, the passionate work in which we hear from people like Kaleikoa, you start to see kind of this history becomes a source of empowerment, a source that we can go today to help to kind of resolve some of our problems that we have right now.
EWART: You made the point there about the legal issue that is tied up in this. Now, just a couple of weeks ago, we heard the chief executive of the Office of Hawaiian Affairs, we heard that he'd written to the United States Secretary of State, John Kerry, asking for legal clarification on the status of the Kingdom of Hawaii and that letter in itself stirred up a certain amount of debate. How does that request, coming from the OHA sit with this apparent push for federal recognition. It would seem the two things don't really add up?
KAUAI: Yeah. I mean one is definitely running contrary to the other, but I think what's important is that, that was just a mere question, that was a simple question posed to the United States by a state official, of the State of Hawaii, asking for clarification, that's all it was, was simply a question. What's interesting is the response, not only of the board to the request, to that question, but also from the community as well. And it's at that moment, where you can see how out of touch the Office of Hawaiian Affairs is with the Hawaiian community. I don't necessarily think that OHA had I think realised how informed the community has become in the last 15 years, especially with regard to this idea of Hawaii being occupied, all right, or this, excuse me, not the idea, but of the fact that Hawaii is currently occupied, especially given that the United States has never shown legal title to these islands and therefore.
EWART: Are you satisfied therefore, that you were amongst a group of around 100 or so people who were present at that meeting of the Office of Hawaiian Affairs. I mean do you believe that you and those people who were there are truly representative of the wider indigenous Hawaiian community?
KAUAI: I wouldn't necessarily say that and there in lies the problem. What you've seen there and what OHA is pretty responsive to was this call for education, that if we're going to go about doing these important things, such as nation building, then the 500 thousand native Hawaiians that exist in the world today should have a very clear understanding of their history and the current legal position that Hawaii is in today, so that we can move forward, not with a clear understanding of our history, but with strength we can move forward with strength in knowing that what our ancestors did in the 19th. Century and the bullet proof legal argument that they have left there is so important for Hawaii and for native Hawaiians. That, I think is what the rallying cry was from the majority of those 100 participants, but also for the larger Hawaiian community as well, yeah. that we need to become educated on these matters.
EWART: So therefore, it would seem to be vitally important from the perspective of yourself and like minded others that Barack Obama's offer to vast track the legal recognition of native Hawaii, native Hawaiians by Washington has to be at least delayed until these matters can be put to the wider group of people?
KAUAI: Absolutely, that when I had seen that kind of fast track proposal from the Obama administration, you can, in fact, see how powerful that question to the State Department was in asking the United States to clarify their legal jurisdiction of Hawaii. We expect to see how everybody is responding to this, such as the 9 trustees, such as the State Department, and now such as Barack Obama. And that gives you, I think a feeling of how powerful education is in these matters.