Proceedings to establish an International Commission of Inquiry under Part III of the 1907 Hague Convention for the Pacific Settlement of International Disputes stemming from the Larsen v. Hawaiian Kingdom arbitration held under the auspices of the Permanent Court of Arbitration (1999-2001) were initiated under a Special Agreement dated January 19, 2017. The title for these proceedings is "Incidents of War Crimes in the Hawaiian Islands—The Larsen Case."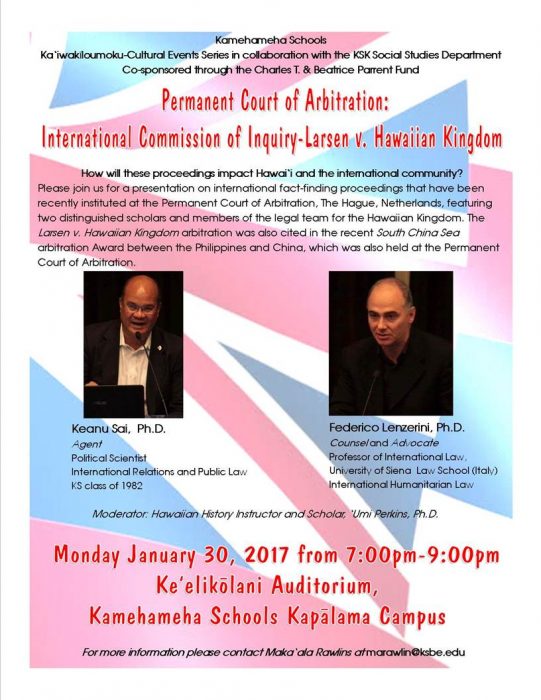 On March 3, 2017, Professor Francesco Francioni was designated by the parties by a supplemental agreement to be the appointing authority, whose function is to form the International Commission of Inquiry. Professor Francioni is an ad hoc judge on the International Tribunal for the Law of the Sea as well as serving as one of five arbitrators in a dispute under the auspices of the Permanent Court of Arbitration, The "Enrica Lexie" Case (Italy v. India). The parties notified the appointing authority that the prospective commissioners shall not United States citizens; must have command of the English language; have expertise in international humanitarian law; and include, at least, one woman.
Article I of the Special Agreement was amended by the parties on March 26, 2017 to allow the Commission to designate a Secretary General to serve as a registry, and for the President of the Commission to work with the Secretary General in order to determine a location for the sitting of the Commission. The only stipulation by the parties is that the sitting shall be in Europe.