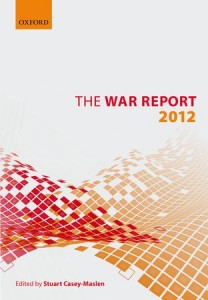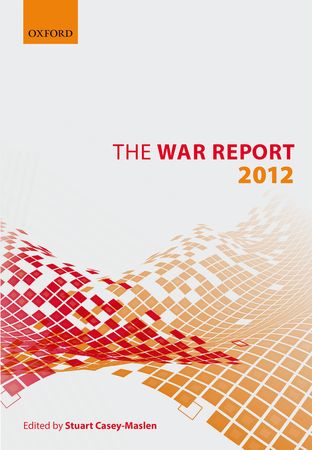 Professor Andrew Clapham has notified Dr. Keanu Sai that a team at the Geneva Academy of International Humanitarian Law and Human Rights will be reviewing information on the occupation of the Hawaiian Kingdom for inclusion in the Academy's War Report. The War Report is a comprehensive global analysis of armed conflicts under international law, which includes military occupations. In 2012, the War Report identified at least 37 armed conflicts, of which 9 are military occupations, on the territory of 24 States for 2012.
The War Report: 2012 was launched on December 10, 2013, which was Human Rights Day, with an interactive panel hosted by journalist Xavier Colin at the Geneva Institute's Auditorium Pictet. H.E. Ambassador Jürg Lindemann, Deputy Director of the Directorate of International Law at the Swiss Federal Department of Foreign Affairs, made opening remarks. Panelists included Andrew Clapham, Professor at the Graduate Institute and Director of the Geneva Academy, Keith Krause, Professor at the Graduate Institute, and Programme Director of the Small Arms Survey, Julie de Rivero, Geneva Advocacy Director, Human Rights Watch, and H.E. Ambassador Jürg Lindemann.
The War Report is published by Oxford University Press and identifies "armed conflicts" according to international humanitarian law, which includes the 1907 Hague Regulations and the 1949 Geneva Conventions and their 1977 Additional Protocols. Only accused violators in conflicts classified as such can be prosecuted for war crimes. The Fourth Geneva Convention not only applies to "armed conflicts" but also "to all cases of partial or total occupation of the territory of a High Contracting Party, even if the said occupation meets with no armed resistance (Article 2)." The Hawaiian Kingdom acceded to the Fourth Geneva Convention on January 14, 2013, and consequently became a "High Contracting Party."
"The classification of an armed conflict under international law is an objective legal test and not a decision left to national governments or any international body, not even the UN Security Council," says Andrew Clapham, Director of the Academy and Graduate Institute Professor in International Law.
"It is not always clear when a situation is an armed conflict, and hence when war crimes can be punished," added Professor Clapham. "The War Report aims to change this and bring greater accountability for criminal acts perpetuated in armed conflicts."
The War Report for 2012, the first edition of what will become an annual publication, aims to make this important legal analysis more accessible for governments, policy makers, the United Nations, academics, NGOs, and journalists. Oxford University Press has provided online access to Chapter 1.