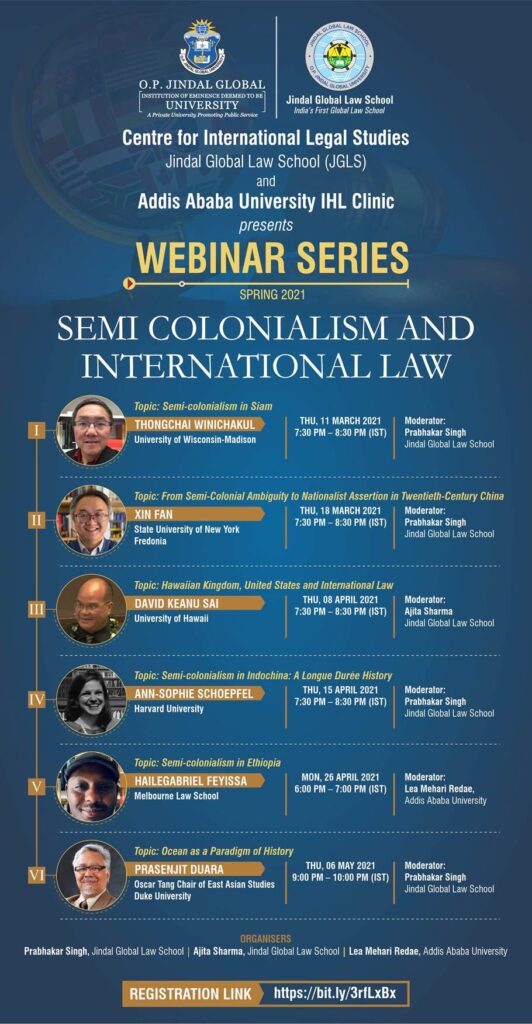 About the Centre for International Legal Studies
Jindal Global Law School's Centre for International Legal Studies is committed to the study of emerging areas of interest in public international law. Its mandate is to undertake collaborative research within JGU and also with other national and international entities in various areas of international law. The Centre designs training courses, lectures, seminars, conferences, and symposia for students and professionals working in the field and advises national and international public bodies on matters of interpretation and application of international law.
About Jindal Global Law School
Jindal Global Law School (JGLS), the flagship faculty for O.P. Jindal Global (Institution of Eminence Deemed To Be University), is an ambitious entrant into the Indian, and indeed the global—academic scene. The model is simple. Faculty with outstanding academic qualifications have been assembled, given world class facilities, extensive academic freedom, and embedded—in many cases re-embedded—into the Indian academic fabric. The result is an institution for research and scholarship that exists at a unique set of crossroads for almost any research issue. JGLS combines perspectives unique to the Global North as well as to the Global South, applies the potential for global collaboration towards local application, has the ability to disseminate Indian legal and policy research to a global audience, enjoys the in-house expertise to engage in seamless comparative law review, to bridge jurisdictional divides, and to draw upon a global set of faculty contacts to coordinate scholars and scholarship.
About Addis Ababa University International Humanitarian Law Clinic
The Addis Ababa University International Humanitarian Law Clinic offers a venue for the learning, research, debate and awareness raising of International Humanitarian Law. Only a few months after its establishment, the AAU IHL Clinic has become an important emerging voice in International Humanitarian Law, posting articles by Students, Scholars and IHL practitioners. Our blog is attracting readers from all over the world. Our articles range from theoretical issues of IHL to practical situations of armed conflicts. The AAU IHL Clinic encourages learners to pursue and develop legal research, analytical thinking, legal analysis and problem-solving skills through practical applications of legal rules and principles to real-world situations. It is a platform where students develop their skills in writing, publishing, presentation and correspondence. It is also a venue for scholars and practitioners to write about and present on issues they deem relevant to the proper enforcement of IHL rules. Through projects chosen by the Clinic and our partners, students will get a unique experience in IHL, within the classroom and beyond.
Dr. Keanu Sai will present on "The Hawaiian Kingdom, United States and International Law" on April 8 at 7:30pm (India Time), which is 9am (US Eastern Time) and 4am (Hawai'i Time). To register here for the event.