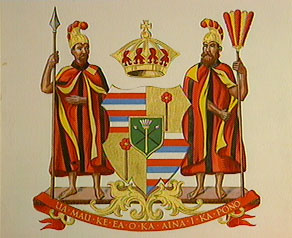 Welcome to the weblog of the Hawaiian Kingdom presently operating within the occupied State of the Hawaiian Islands.
The Hawaiian Kingdom achieved the recognition of its independence as a sovereign State on November 28, 1843 by joint proclamation from Great Britain and France and by 1893, the Hawaiian Kingdom maintained over ninety (90) Legations and Consulates throughout the world. The Hawaiian Kingdom also has been a Member State of the Universal Postal Union since January 1, 1882, which is currently an agency of the United Nations.
Since the Spanish-American War, 1898, our country has been under an illegal and prolonged occupation by the United States of America disguised as if the Hawaiian Islands were annexed by a treaty. Justifying the seizure as a military necessity, the United States fortified the Islands as a military outpost which currently number 119 U.S. Army, Marines, Navy and Air force sites that take up 230,622 acres of land, which is 20% of Hawaiian territory.
Our web blog will provide up to date information on activities carried out by the acting government of the Hawaiian Kingdom. The primary objective of the acting government of the Hawaiian Kingdom is to expose the occupation of our nation within the framework of the 1907 Hague Convention, IV, the 1949 Geneva Convention, IV, and our domestic statutes, and to provide a foundation for transition and the ultimate end of the occupation of the Hawaiian Kingdom. Article 43 of the 1907 Hague Convention IV mandates that the occupying government, being the United States of America, must administer the laws of the occupied State, being the Hawaiian Kingdom, and any deviation of this mandate is a violation of international law. Presently, the Hawaiian Islands reluctantly serves as the headquarters for the largest of the nine unified military commands of the United States armed forces in the world, U.S. Pacific Command.