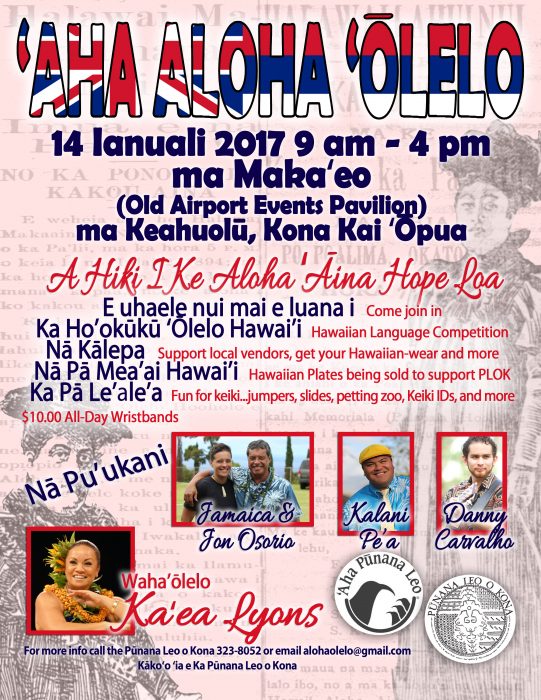 Pūnana Leo o Kona presents the 4th annual ʻAha Aloha ʻŌlelo on January 14, 2017 from 9:00am to 4:00pm at Makaʻeo (Old Airport Pavilion).  ʻAha Aloha ʻŌlelo is an event for the entire ʻohana featuring live entertainment by Danny Carvalho, Kalani Peʻa, Duncan Kamakana Osorio, Jon Osorio and Jamaica Osorio.  The event will also feature vendors, Hawaiian food and a Keikiland with bouncers, games and a petting zoo.  A Hawaiian language competition with well over 100 competitors from schools such as Pūnana Leo o Kona, ʻEhunuikaimalino, Nāwahīokalaniʻōpuʻu and Pūnana Leo o Waiʻanae from Waiʻanae, Oʻahu will also be held.  Tickets to the event are $10 or $12 at the door and keiki 10 and under are free.
The theme of this yearʻs Hawaiian language competition is built around a speech given on September 6, 1896 at a Hālāwai Makaʻāinana at Palace Square in Honolulu by James Keauiluna Kaulia, calling on the people of Hawaiʻi to "kūʻē loa aku i ka hoʻohui ʻia o Hawaiʻi me ʻAmelika a hiki i ke aloha ʻāina hope loa!"  Kaulia was the President of the Hui Aloha ʻĀina, or Hawaiian Patriotic League when the question of annexing Hawaiʻi to the United States was before the U.S. government.  Kaulia and others, including David Kalauokalani, Emma Nāwahī and Kuaihelani Campbell, led a petition drive protesting the annexation of Hawaiʻi to the United States of America.  They sent out delegates to each island and all of its communities and through their collective efforts, over 37,000 signatures were gathered during a time in Hawaiian history where there were only about 40,000 Native Hawaiians alive.
After the gathering of the signatures, Kaulia and Kalauokalani, along with John Richardson and William Auld, traveled to Washington D.C. to deliver the anti-annexation petitions.   Upon arriving to D.C., it was known that there were already 58 votes in U.S Congress for annexation, with only two more votes being needed to ratify the treaty presented to congress by the unlawful Republic of Hawaiʻi under Sanford Dole.  The Commission was able to meet with many different Senators and Congressmen and they were able to have the annexation petitions read to the Senate and formally accepted.  By the time the Commission left Washington D.C. to return back to Hawaiʻi, there were only 46 votes in the Senate for annexation, far below the 60 votes required to ratify the treaty.  The treaty of annexation was dead.  Hawaiʻi remained an independent country, as it has been since November 28, 1843, albeit under an illegal, unlawful and self-proclaimed government.
"These petitions show us the potential of our Lāhui.  Our kūpuna were actively engaged in the political issues surrounding them and their country.  We are in a point of history where we face very similar issues," said Kahoʻokahi Kanuha, the organizer of the Hawaiian language competition.  "I am hopeful that this competition and event will remind us of the inherited kuleana we have to this ʻāina.  These petitions show us who we were, who we are and most importantly who we still must be."
###
For more information, e ʻoluʻolu, contact:
Kahoʻokahi Kanuha
808-936-4249
kahookahi@ahapunanaleo.org
Facebook: ʻAha Aloha ʻŌlelo
Instagram: @alohaolelo
Twitter: @alohaolelo