Hawaiian National Coat of Arms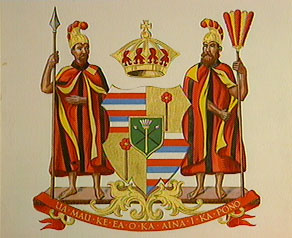 In addition to the Hawaiian flag, the Polynesian newspaper of May 31, 1845, also had the following article about the National Coat of Arms as adopted by the Legislative Assembly.
"A coat of arms has also been adopted which is quarterly, first and fourth stripes of the National banner, second and third, a ball argent on a staff sable - in escutcheon oct, triangular banner argent, leaning on a cross saltire.
The white ball with which the second and third quarters are charged, was an ancient emblem of the country called Puloulou and they were placed at the right and left of the gateway, or door, of the King's house, to indicate protection, or a place of refuge, to which persons might flee from danger and be safe.
The triangular flag at the fess point, was an ancient flag of the Hawaiian chiefs which was raised at sea, above the sail of their canoes, and the sail at that time being of a peculiar construction, it presented a very beautiful appearance. It was also placed in a leaning position, across two spears in front of the King's house, to indicate both tabu and protection. The name of the flag was Puela and name of the cross on which it lies Alia.
Both the balls and the flag had on some occasions a religious signification, but their appropriateness to a coat of arms results from the above characteristics.
The external ornaments of the escutcheon consists of a crest, which is a crown and two supporters, men clad in the ancient feather cloak and helmet of the Islands, the one bearing a kahili and the other a spear as in the processions of former times. The crown is ornamented with the taro leaf. The drawings of all these emblems and ornaments was taken from the original articles presented to Captain Cook by Kaleiopuu in 1778. The design was original by the lamented Haalilio.
The motto is, 'Ua mau ke ea o ka aina i ka pono.' The life of the land is perpetuated by righteousness. It refers to the speech of the King at the time of cession, Feb. 25, 1843. 'I have given away the life of the land. I have hope that the life of the land will be restored when my conduct is justified.' It very naturally alludes to the righteousness of the British government, in returning the Island to their legal sovereign, to the righteousness of the Hawaiian which secured the restoration, and to the general principle, that it is only by righteousness that national existence is preserved. "